All our turkeys, both white and bronze are genuine free range.
We take pride in the welfare of all our turkeys and by understanding that wild turkeys are native to huge expanses of North American Forest, we ensure their natural habitual in replicated as much as possible. To that end, all our birds, both white and bronze roam freely in the grassy paddocks and meadows of our farm from eight weeks of age, to allow a happy and natural lifestyle. This is also our biggest marketing tool as many of local customers enjoy the experience of driving past our farm and being able to see our birds roam freely.
Turkeys love to explore their surroundings, playing in dust baths and roosting on straw bales, low branches and fences. At night they take themselves off to bed on the deep straw beds in the barns and field shelters, whey they go for warmth and protection, away from the elements and with a constant supply of fresh food and water.
We believe in traditional farming techniques of slow growing turkeys to gain maximum flavour. We nurture several different slow growing breeds reared over at least 6 months, which when they have reached maturity in December produce a range of different sized birds to cater for all our customers needs. All our turkeys are fed on a natural cereal based diet consisting of wheat, soya bean, barley, rape seed extract, minerals, herban powder and natural herbs; free from antibiotics and growth promoters.
We pluck all of our turkeys by hand to avoid the negative affects on the quality of the bird associated with wet plucking. During wet plucking the entire bird is dipped in hot water, which contains high bacteria levels.
Turkey's are game birds and as such they need to be hung to achieve maximum taste and flavour. We hang all of our birds for a minimum of two weeks. They are kept in temperature controlled cold rooms and delivered to our stockists in refrigerated vans/lorries so we can ensure the temperature is always between 2 and 4 Degrees Celsius, so that they are in perfect condition for your Christmas dinner.
What's the difference between our bronze and white free-range turkey?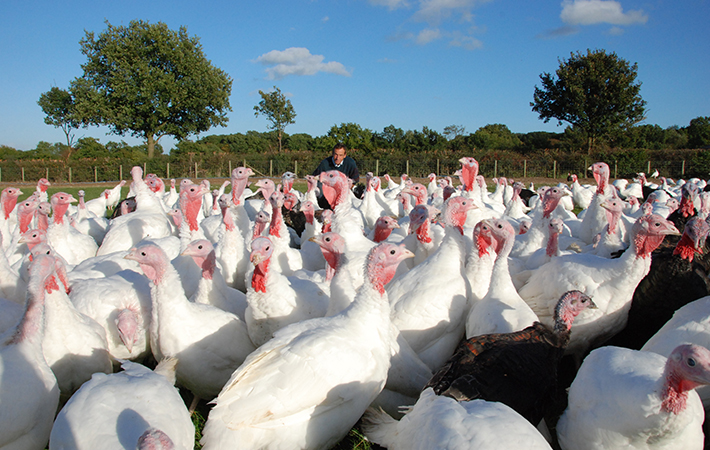 Our classic, white-feathered free-range turkeys have become a household favourite for holiday dinners and Christmas get-togethers the country over. Whereas most standard white turkeys are typically barn reared, ours are genuine free range, brought up to ensure superior quality fresh meat. Our white-feathered turkey is succulent, tasty, and great for those who love healthy breast meat while its generous thighs and wings cater for those at the table who prefer darker meat.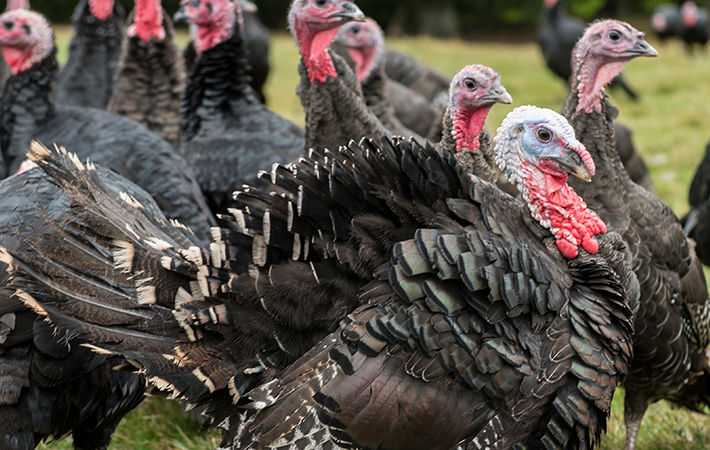 The bronze turkey is more closely related to the wild turkey in both appearance and taste. As with our white feathered birds, we maintain variety by rearing several different breeds on the farm. Over the last few years, the popularity of the bronze breeds has risen dramatically, with many people enjoying their richer, gamier taste.